Adventure motorcycle road trip through Quebec
A million lakes and endless kilometers of trails
The boreal forest as far as the eye can see, bears, wolves, bustards and moose… Experience the intensity of Northeastern Canada up to the St. Lawrence River, d'on't miss its whales! The route of this road trip through Quebec follows the forest trails of 4 Wildlife Reserves and 8 National Parks, over 2000 km. You will discover abundant wildlife, countless rivers and grandiose panoramas from Mauricie to Saguenay.
Enjoy, the guide takes care of everything
During our adventure, learn to refine your riding directly on the ground; every evening, we exchange experience and our guides will share some advices in a pure Quebec warm atmosphere. The circuit is suitable for off-road enthusiasts of all levels, in small groups of 8 maximum so the adventure remains a pleasure. Our ORV-certified guides are local pilots experienced in the surprises offered by our Belle Province. They will make this road trip an epic adventure conducted in complete safety.
Comfort and safety are our main concerns
The accommodations, chosen for their charm or location, are provided by outfitters and campsites. The meals always offer a great local culinary variety, sometimes gastronomic, sometimes typical! A support vehicle carries a spare adventure bike, a mobile repair shop and your luggage; B46 provides its fully-equipped and inspected adventure motorcycles… Just enough to enjoy the good times and stock up on precious memories!
Welcome to the Pourvoirie du Lac Blanc. Allocation of your rooms followed by dinner. In the evening, presentation of the road trip!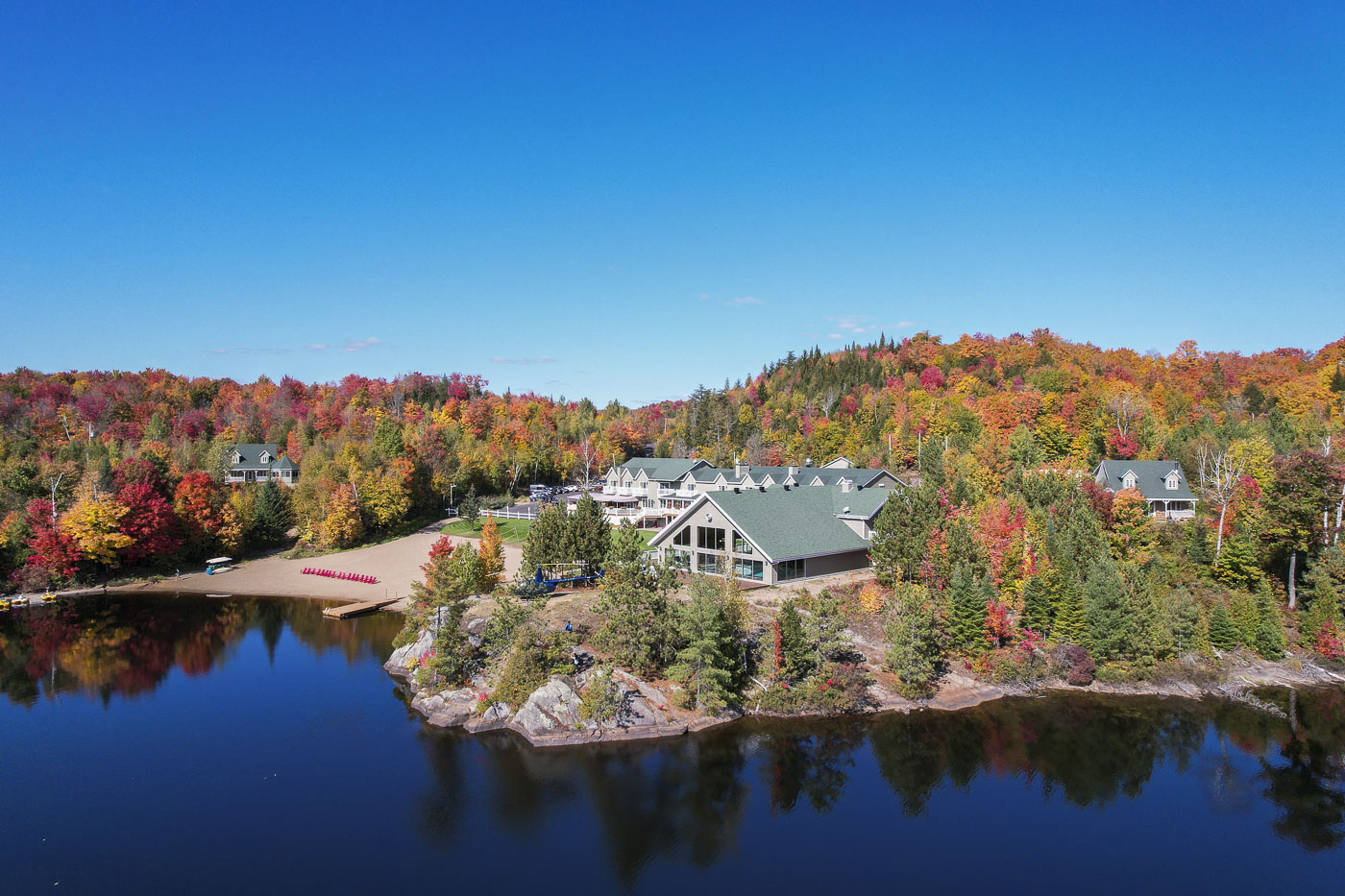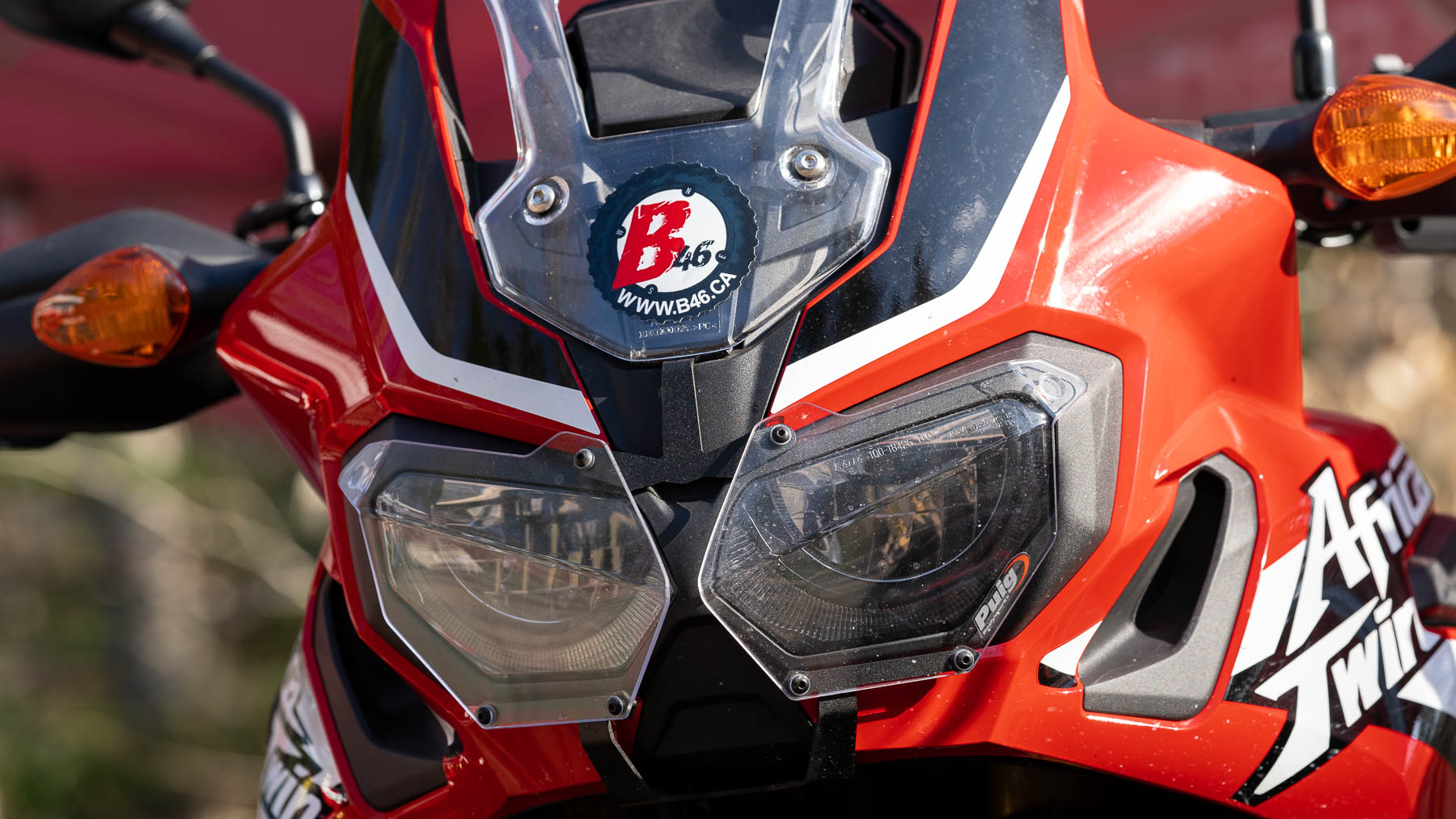 50% Off-Road
Breakfast. Instructions and adjustment of motorcycles for each participant. Getting started with the off-road bike and a short training course. Crossing the superb Parc National de la Mauricie then following by the famous Route 155, one of the most beautiful in Quebec. Head to Zec Tawachiche where the B46 team will have set up our camp for the night.
100% Off-Road
Breakfast at the camp. Departure for Lac Berthiaume in the Réserve Faunique des Laurentides. Diving in the hollow of the forests of the Zec and Wildlife Reserve on off-road trails and in the heart of nature. Late afternoon we arrive at camp, beer and tasty BBQ around the fire.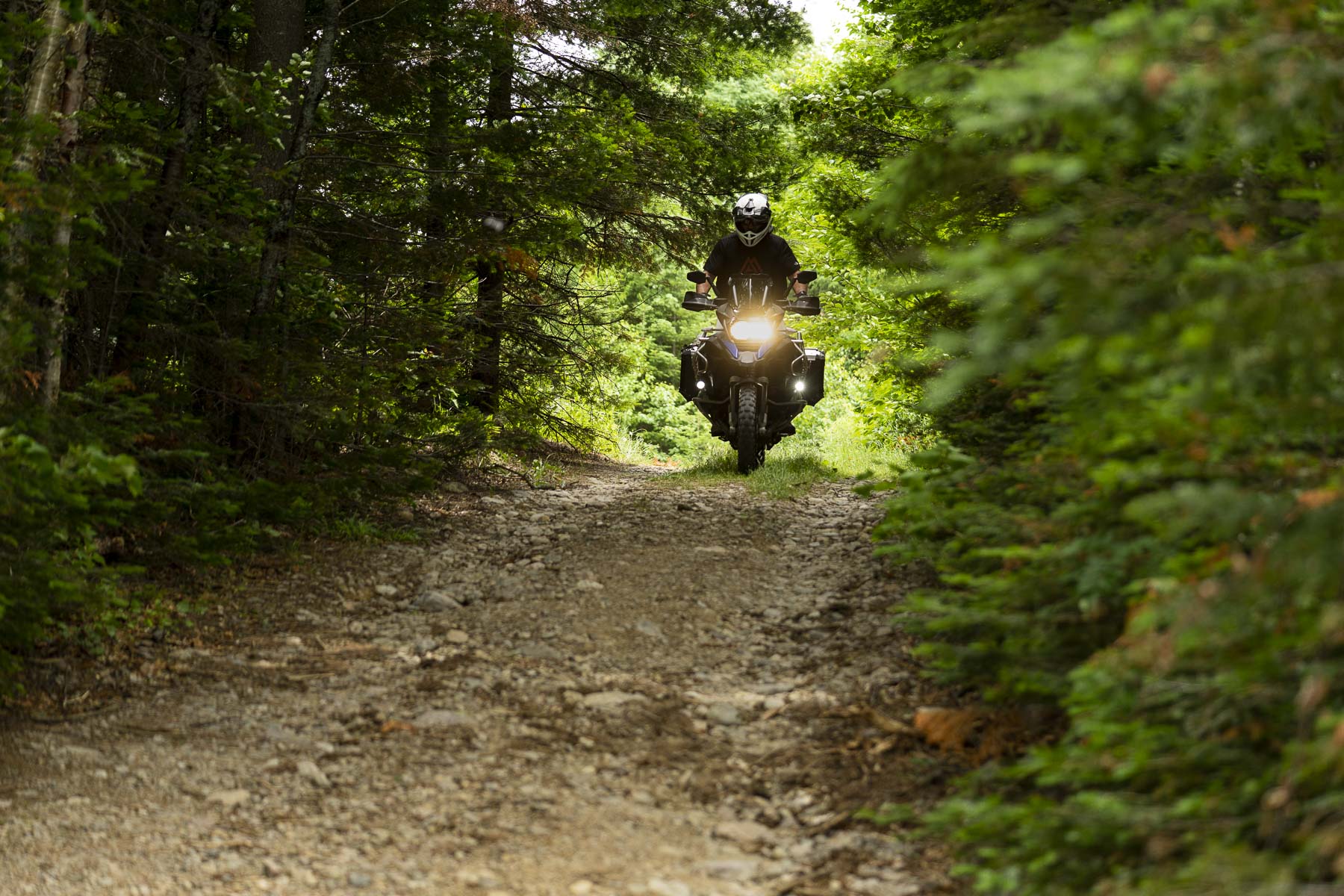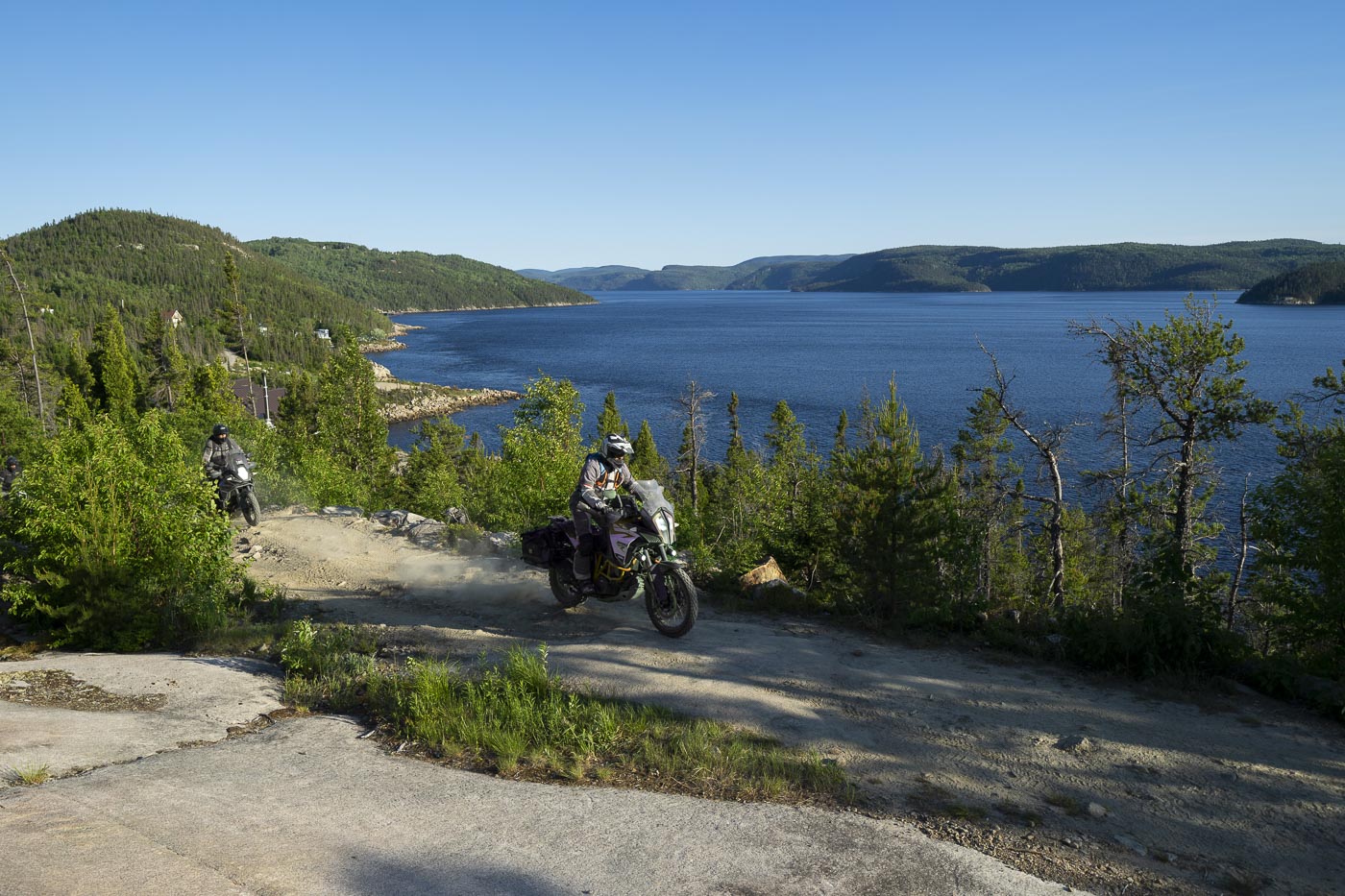 100% Off-Road
Headed to Sepaq's Park- Belle Rivière aera, we enter the Saguenay region in the heart of mountains and rivers that offer us incredible views. Lakeside camp in one of our many provincial parks.
30% Off-Road
After crossing Chicoutimi, we follow a superb winding road in the hollow of a canyon on the site of an ancient fjord. Mountains and cliffs line the Sainte Marguerite Salmon River. Dinner and night at the Ferme 5 Étoiles on the edge of the majestic Saguenay Fjord.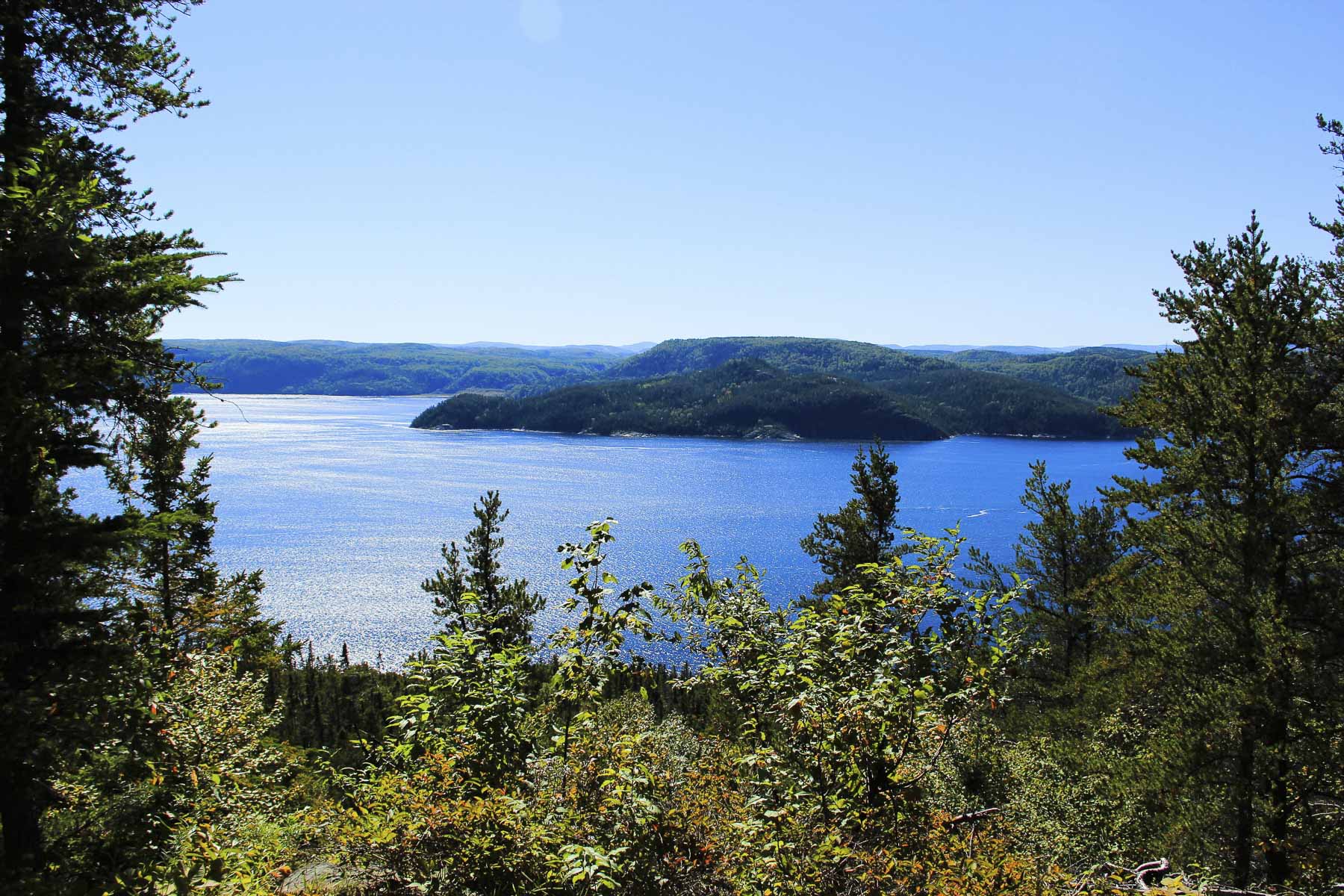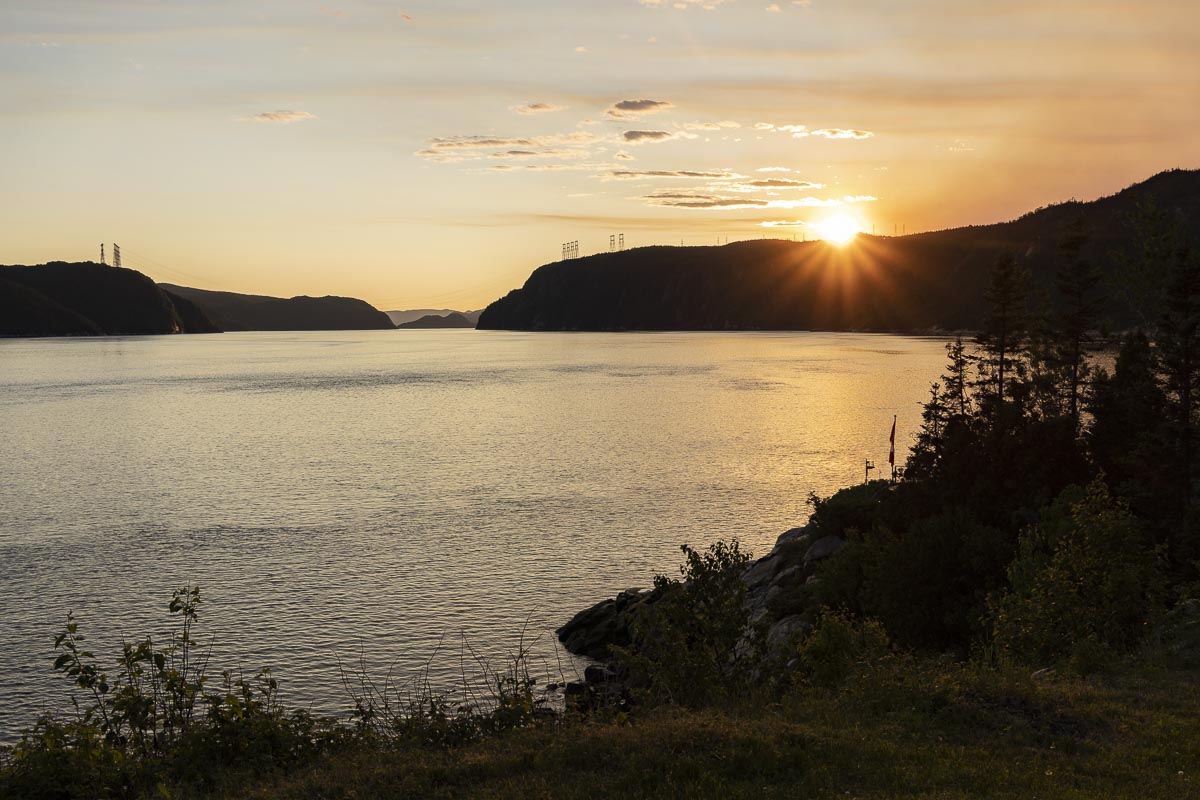 Rest day with the possibility of going whale watching on the St. Lawrence, sea kayaking in the Saguenay Fjord or visiting the Ferme 5 Étoiles wildlife refuge: moose, wolf, deer, lynx, American bison… Meal organized by Yannik our host with his hilarious stories. Campfire and sleep.
100% Off-Road
Departure for the spectacular Mont Valin known worldwide for off-trail snowmobiling. Waterfalls, cascades and rivers await you. Arrival at the Pourvoirie des Monts Valin where a good meal and a campfire await us. We take this opportunity to share our knowledge of technique, travel preparation and gear advice.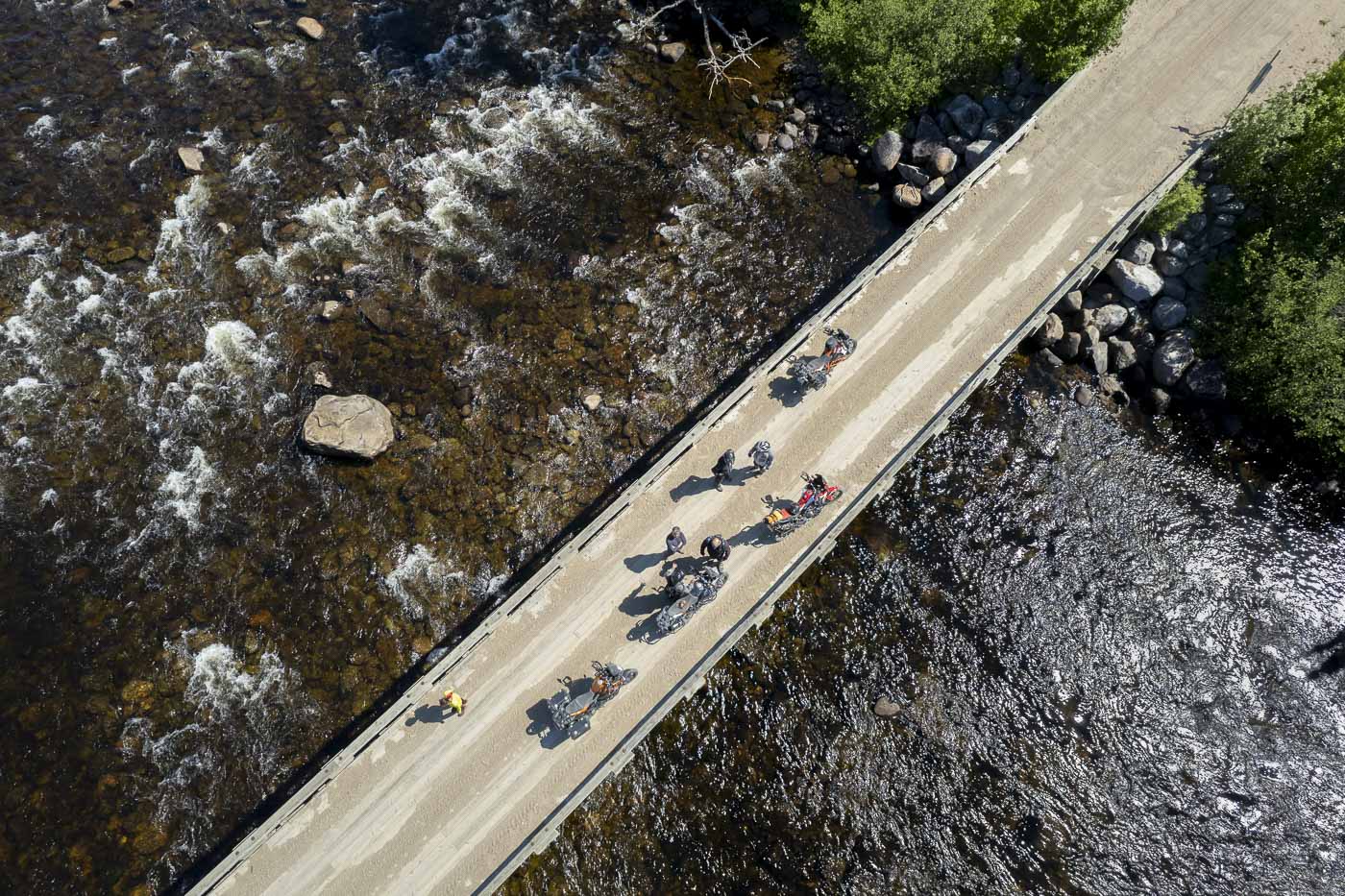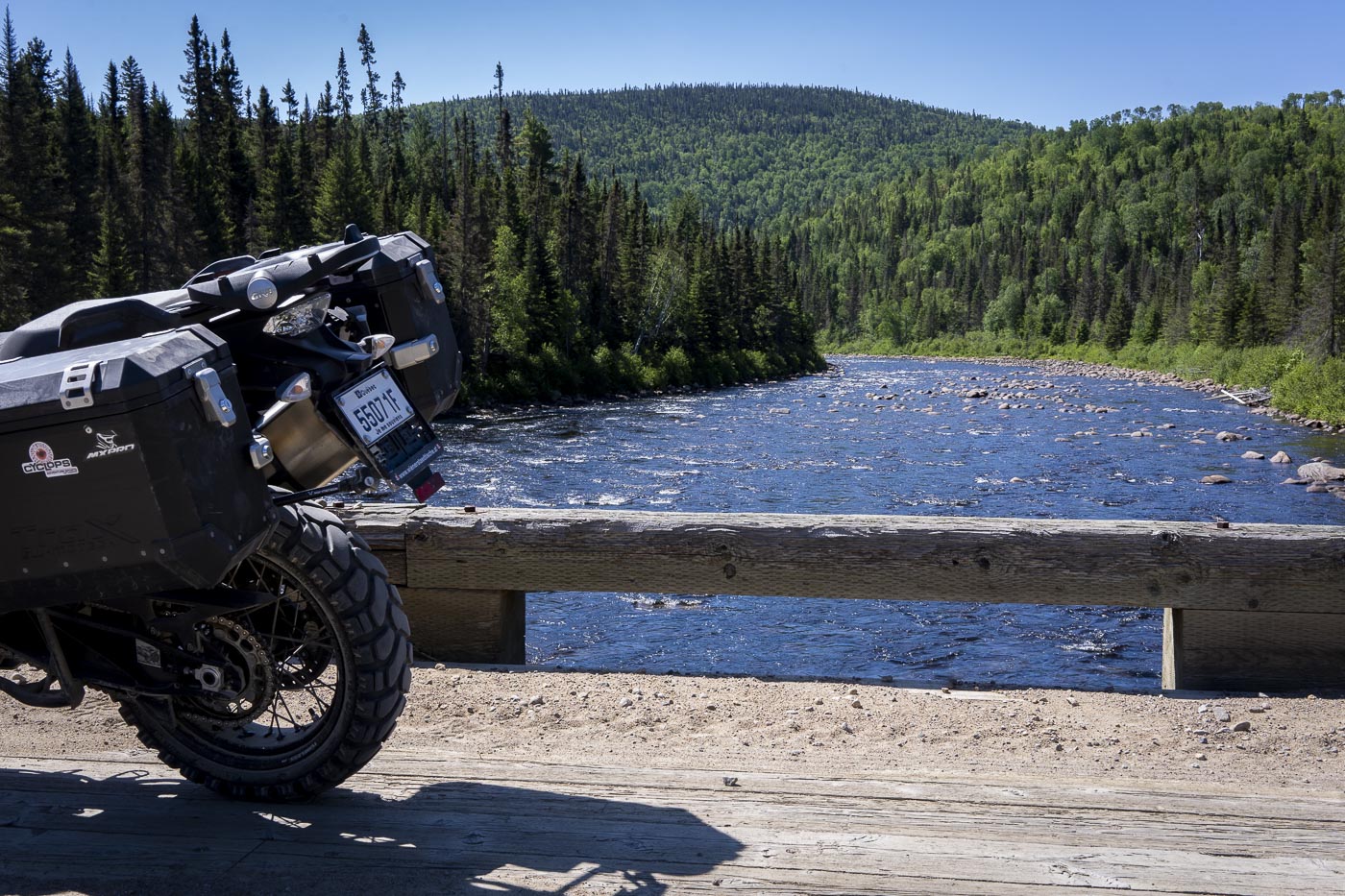 70% Off-Road
Crossing the grandiose Hautes Gorges National Park and the Grands Jardins National Park. We will have the chance to follow one of the most beautiful salmon rivers in Quebec. Arrival at the Pourvoirie du Lac Moreau. Magnificent log building with a gourmet kitchen.
100% Off-Road
Departure to the Portneuf Wildlife Reserve. Crossing the Parc des Laurentides well known for its herds of Caribou and its large numbers of wolves. In the evening, accommodation in one of the hunting lodges of the Réserve de Portneuf.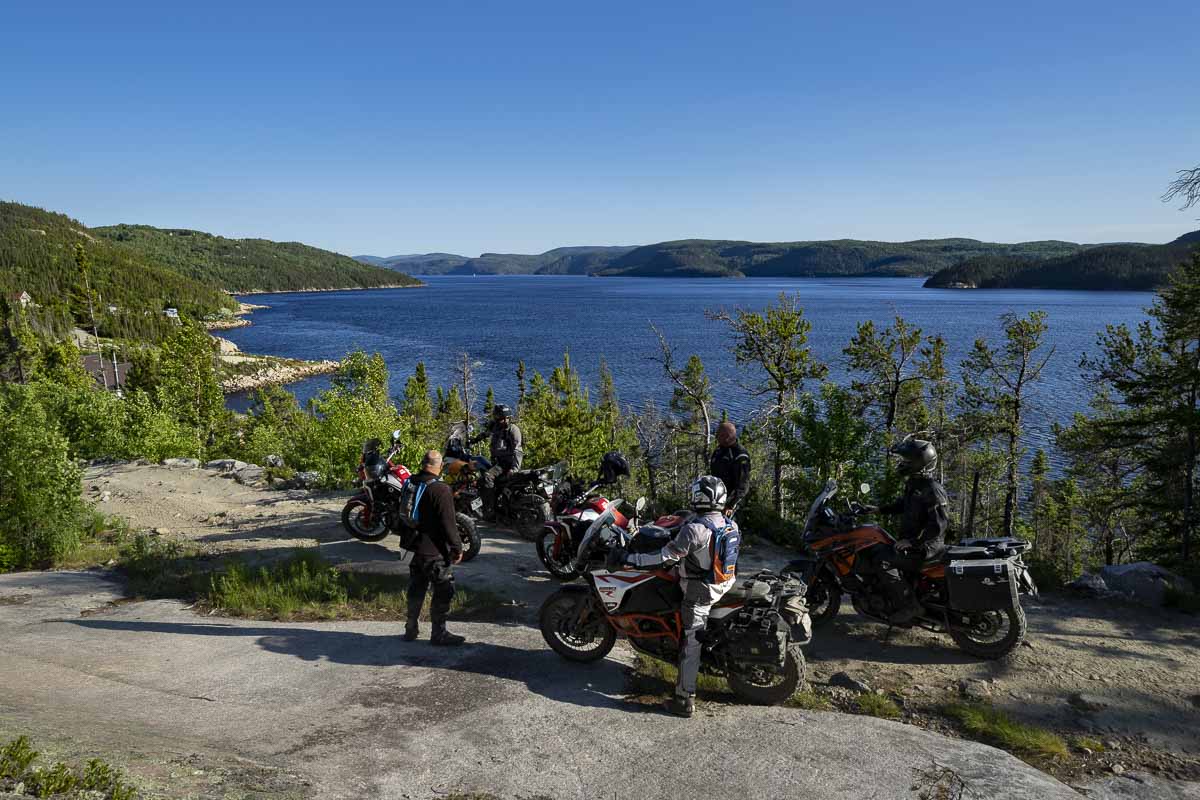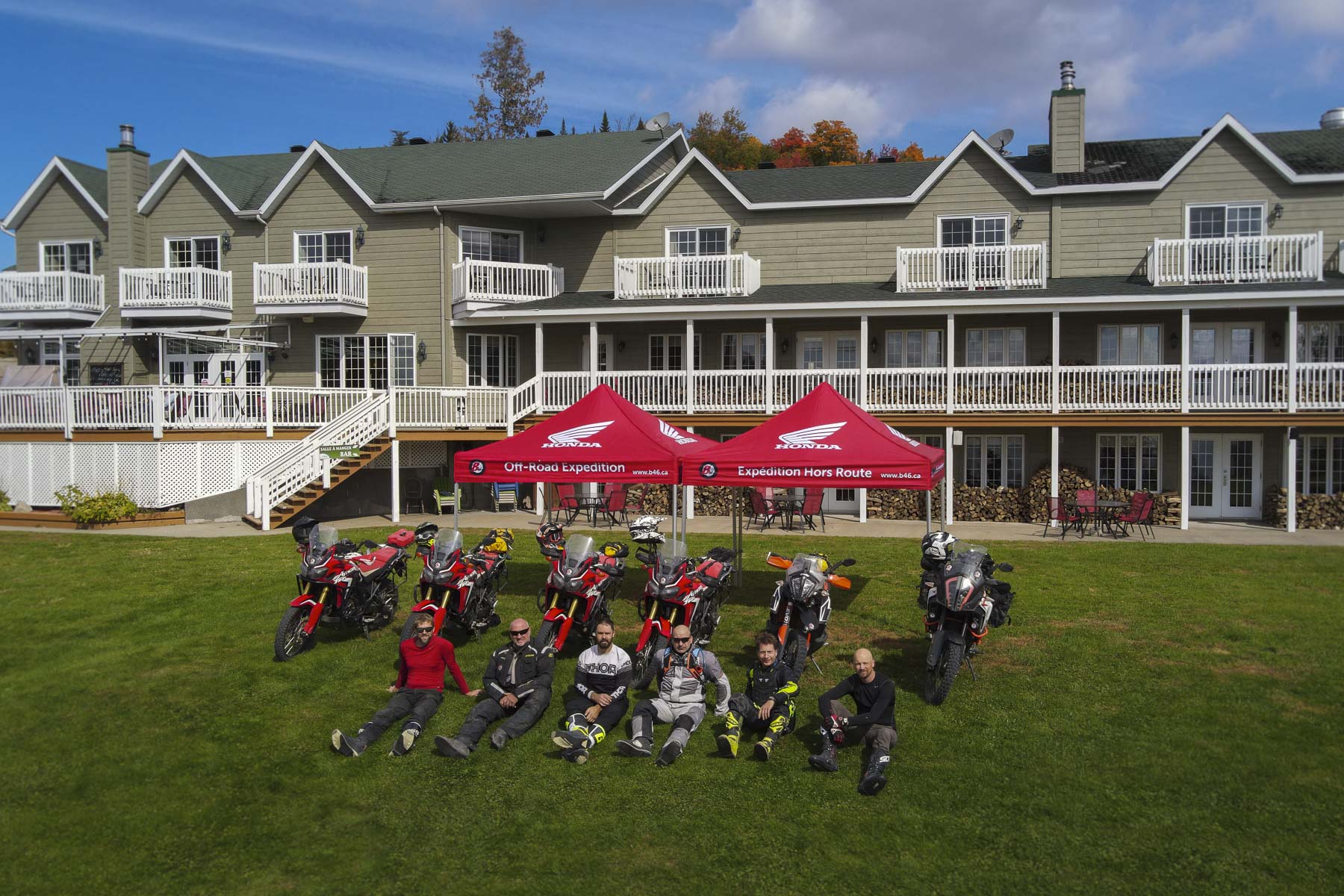 Return to the Pourvoirie du Lac Blanc by road around 4 p.m. You will also have the choice of treating yourself to an extra night to take advantage of the à la carte spa and massage, which are very welcome after these kilometers of off-road!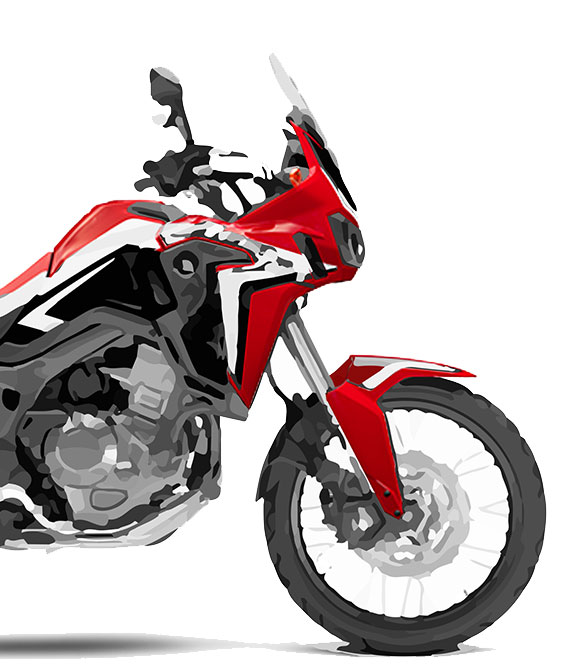 Ride your own bike or rent one of our
off-road motorcycles

!

B46, owner of its fleet, leases its off-road motorcycles for the duration of the event. Each of our adventure bikes is equipped for off-road with knobby tires, Outback Motortek protections and Wolfman luggage. Additionally, our bikes feature an engine with the power to tackle off-road environments while maintaining a high level of comfort when driving on the road. Our fleet of  motorcycles  is professionally maintained by our expert mechanic.

If you have your own adventure bike, just make sure it has knobby tires.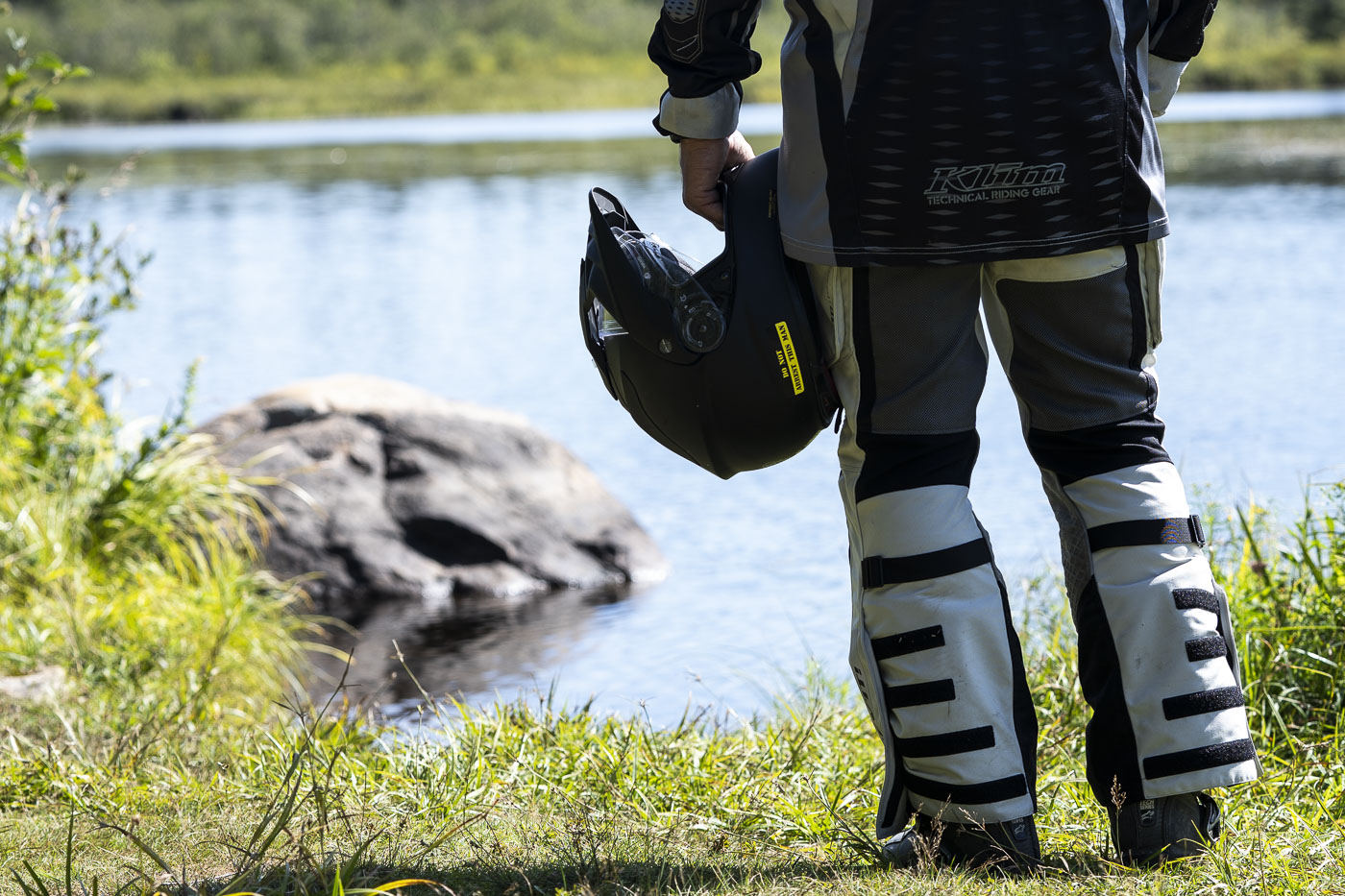 Required
Adventure motorcycle fitted with 40-60 knobby tires
Helmet with visor or goggle
Motorcycle boots and gloves
Motorcycle jacket and pants
Valid driving license
Recommended
Rain gear suitable for adventure motorcycling
Bug net
Hydration bag or water bottle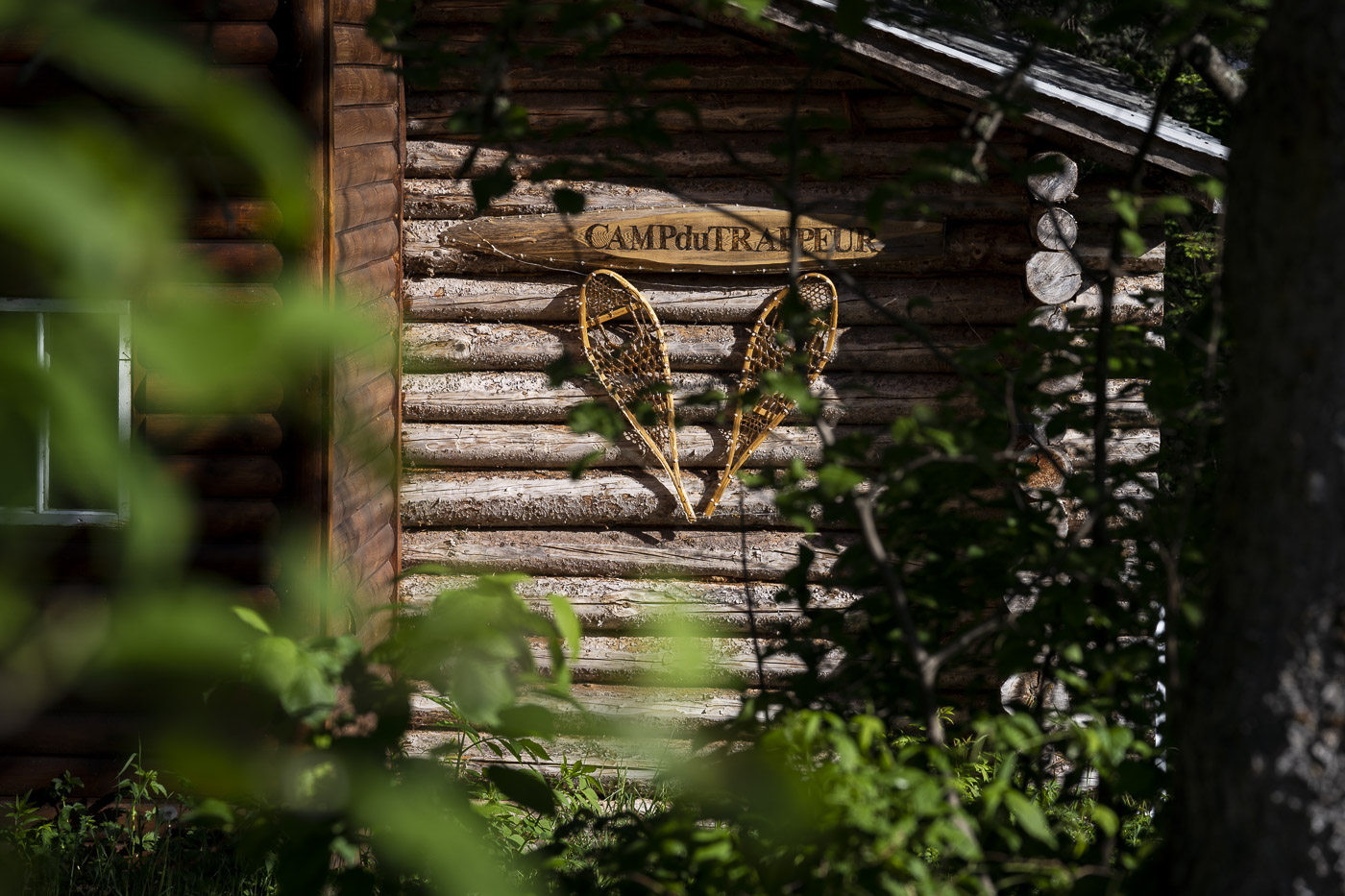 Included
ORV-certified and experienced local guides
Coaching in situation during the road trip
Off-road motorcycle in the option Bike included (equipped with Wolfman tank bag + spare motorcycle)
Sena Intercom
Meals and overnight stays
Camping gear: tent and mattress
Access to National Parks and Wildlife Reserves
Assistance vehicle and luggage transport (for a minimum of 6 participants)
Non-included
Gasoline
Sleeping bag
Personal insurance
Personal motorcycle equipment
Tips and alcohol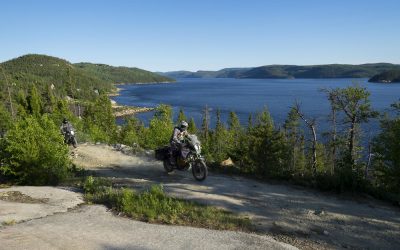 The Laurentians on off-road motorcycle road trip763 lakes, 42 rivers and unique biodiversity in North America Here is the decor of the Papineau-Labelle Reserve! Night in a rustic log cabin, lumberjack lunch and so on for 5 days from the Upper-Laurentians to the famous...