Control your bike whatever the terrain
A path flooded by a beaver dam, soft sand for 3 km, a steep and very stony slope… What are you doing?
Anticipate! Come and gain confidence and skills on our converted ground with our experienced instructors. To know how to venture with control on any type of off-road, learn to face the obstacles and situations that arise unexpectedly.
How to become one with your mount
Practice appropriate techniques in a safe environment
Know how to protect yourself and save your motorcycle
Get out of a sticky situation
The essentials to stay in perfect control of your machine and make the most of your motorcycle outings!
Welcome and coffee-muffins time to get to know each other!
First, an overview of common challenges that arise when traveling off-road.
Demonstration of correct posture on an adventure motorcycle.
Various practical balance and control exercises.
Progression to more technical factors, such as proper use of throttle and clutch in different circumstances.
Friendly lunch and sharing of experiences
Emphasis also on handlebar handling technique and the right combination of front and rear brake use.
Closing of the first session with a practice combining all the techniques learned during the day.
Revision exercises with obstacles
5 to 7 for those who wish!
Welcome and coffee/muffins to get this 2nd day off to a good start!
Deepening of the techniques of handling an adventure motorcycle
Progression to difficulty elements such as countersteering
Driving technique in sandy areas
Lunch together and exchange of practical tips
Crossing deep gravel and how to get out of these obstacles
Put into practice during a little ride to end this beautiful session
5 to 7 for whoever wants!
Ride your own bike or rent one of our
 

off-road motorcycles

!

B46, owner of its fleet, leases its off-road motorcycles for the duration of the event. Each of our adventure bikes is equipped for off-road with knobby tires, Outback Motortek protections and Wolfman luggage. Additionally, our bikes feature an engine with the power to tackle off-road environments while maintaining a high level of comfort when driving on the road. Our fleet of  motorcycles  is professionally maintained by our expert mechanic.

If you have your own adventure bike, just make sure it has knobby tires.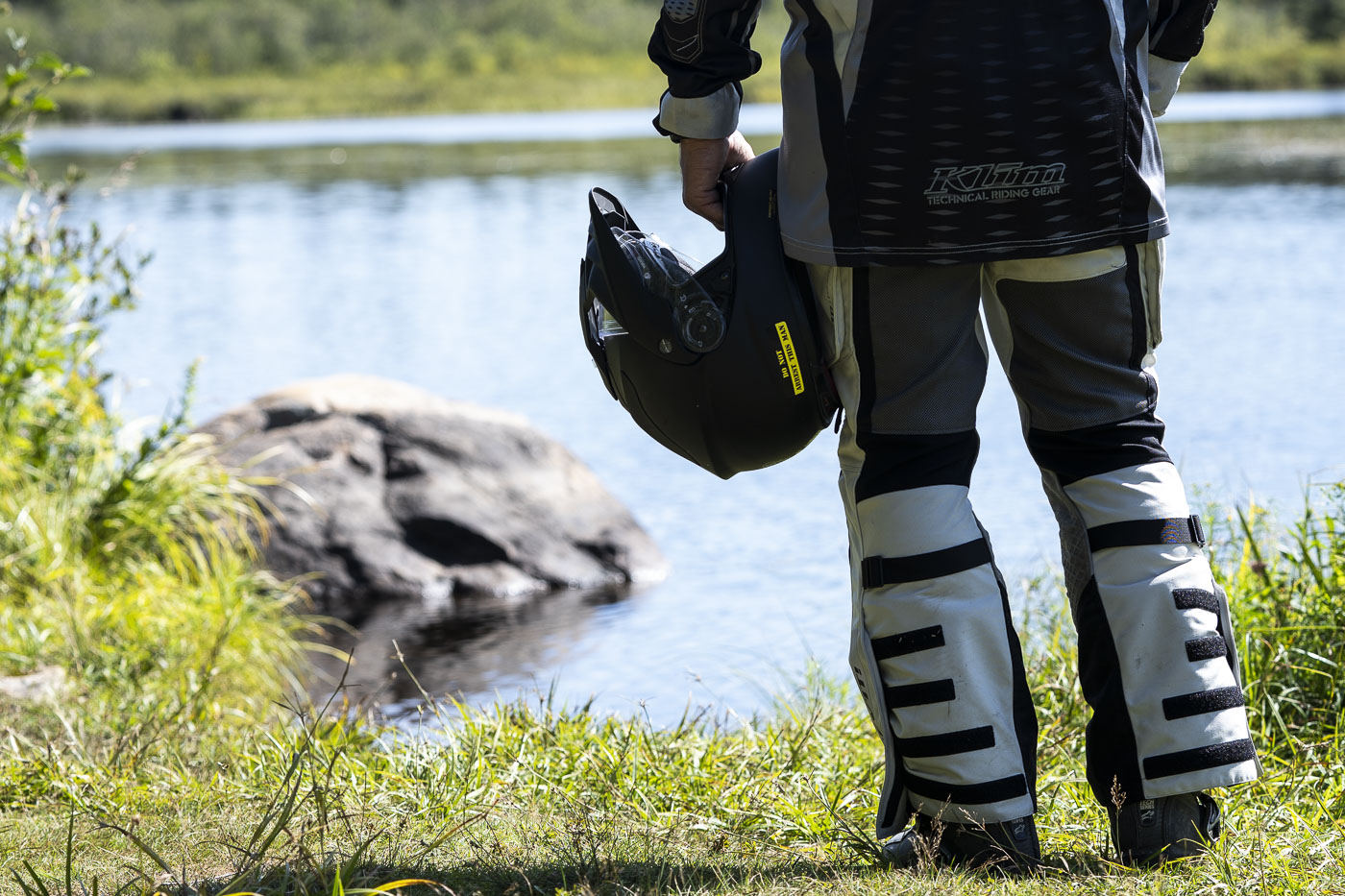 Required
Adventure motorcycle fitted with 40-60 knobby tires
Helmet with visor or goggle
Motorcycle boots and gloves
Motorcycle jacket and pants
Valid driving license
Recommended
Rain gear suitable for adventure motorcycling
Bug net
Hydration bag or water bottle
Included
ORV-certified and experienced local guides
Off-road motorcycle in the option

 

Bike included

 

Coffee – Muffin and lunch
Non-included
Gasoline
Personal insurance
Personal motorcycle equipment
Survie en région éloignéeFormation avec Frédéric Dion : la survie en région éloignée  Formation avec Frédéric Dion pour savoir faire face en toute circonstance en territoire sauvageRDV à la Pourvoirie du Lac Blanc, on vous emmène à travers les sentiers du Parc...
Formation certifiée et accréditée Aventure Ecotourisme Québec Formation Guide VHR certifiée et accréditée AEQFormation pour les guides* en Véhicules Hors RouteCette formation théorique sur les notions de sécurité s'adresse à tous les guides d'excursions en VHR...